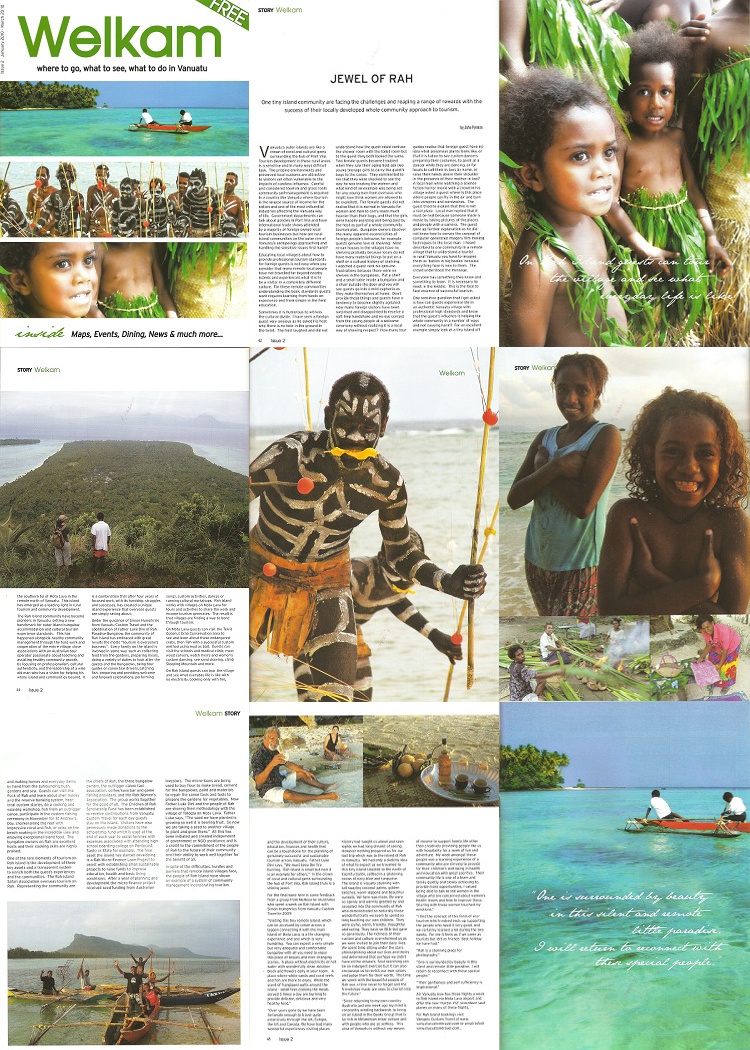 Jewel of Rah
by John Penman
One tiny island community are facing the challenges and reaping a range of rewards with the success of their locally developed whole community approach to tourism.
Vanuatu's outer islands are like a crown of coral and cultural gems surrounding the hub of Port Vila. Tourism development in these rural areas is a sensitive and in many ways difficult task. The pristine environments and preserved local customs are attractive to visitors yet often vulnerable to the impacts of careless influence. Careful and considered tourism and grass roots community self-management is required in a country like Vanuatu where tourism is the largest source of income for the nation and one of the most influential industries affecting the Vanuatu way of life. Government departments can talk about policies in Port Vila and have international trade shows attended by a majority of foreign owned local tourism businesses but how are rural island communities on the outer rim of Vanuatu's archipelago approaching and handling the sensitive issues first hand?
Educating local villagers about how to provide professional tourism standards for foreign guests is not easy when you consider that many remote local people have not travelled far beyond nearby islands and experienced what it is to be a visitor in a completely different culture. For these remote communities understanding the basic standards guests want requires learning from hands on experience and from simple in the field education.
Sometimes it is humorous to witness the cultural divide. I have seen a foreign guest very anxious as he asked his host why there is no hole in the ground in the toilet. The host laughed and did not understand how the guest could confuse the shower room with the toilet room but to the guest they both looked the same. Two female guests became troubled when they saw their aging host ask two young teenage girls to carry the guest's bags to the canoe. They commented to me that they were shocked to see the way he was treating the women and what kind of an example was being set for any young men from overseas who might now think women are allowed to be exploited. The female guests did not realise that it is normal in Vanuatu for women and men to carry loads much heavier than their bags, and that the girls were happily assisting and being paid by the host as part of a whole community tourism plan. Bungalow owners discover the many apparent eccentricities of foreign people's behavior, for example guests genuine love of shelving. Most ni-van houses in the villages have no shelving probably because locals do not have many material things to put on a shelf or a cultural history of shelving. I watched a guest vent his genuine frustrations because there were no shelves in the bungalows. Put a shelf and a small table inside a bungalow and a chair outside the door and you will see guests go into a mild euphoria as they make themselves at home. Don't provide these things and guests have a tendency to become slightly agitated. How many foreign visitors have been surprised and disappointed to receive a soft limp handshake and no eye contact from the young people at a welcome ceremony without realizing it is a local way of showing respect? How many tour guides realise that foreign guest have no idea what poisonous plants looks like, or that it is taboo to see custom dancers preparing their costumes, to point at a dancer while they are dancing, or for locals to call their in laws by name, or raise their hands above their shoulder in the presence of their mother in law? A local man while watching a science fiction horror movie with a crowd in his village asked a guest where is this place where people can fly in the air and turn into vampires and werewolves. The guest tried to explain that this is not a real place. Local man replied that it must be real because someone made a movie by taking pictures of the places and people with a camera. The guest gave up further explanation as he did not know how to convey the concept of computer generated imagery film making techniques to the local man. I heard described to one community in a remote village that to understand a tourist in rural Vanuatu you have to imagine them as 'babies in big bodies' because everything here is new to them. The crowd understood the message.
Everyone has something they know and something to learn. It is necessary to meet in the middle. This is the face to face essence of successful tourism.
One sensitive question that I get asked is how can guests experience life in an authentic Vanuatu village with professional high standards and know that the guest's influence is helping the whole community in a number of ways and not causing harm? For an excellent example simply look at a tiny island off the southern tip of Mota Lava in the remote north of Vanuatu. This island has emerged as a leading light in rural tourism and community development.
The Rah Island community have become pioneers in Vanuatu, setting a new benchmark for outer island bungalow accommodation and cultural tourism experience standards. This has happened alongside healthy community management through the hard work and cooperation of the entire village, close associations with an Australian tour operator passionate about teaching and assisting healthy community growth, by focusing on professionalism, cultural authenticity, and the leadership of a wise old man who has a vision for helping his whole island and communities beyond. It is a combination that after four years of focused work, with its hardship, struggles and successes, has created a unique island experience that overseas guests are simply raving about.
Under the guidance of Simon Humphries from Vanuatu Custom Travel and the coordination of Father Luke Dini of Rah Paradise Bungalow , the community of Rah Island has embraced with great results the motto "tourism is everyone's business". Every family on the island is involved in some way, such as collecting food from the gardens, preparing meals, doing a variety of duties to look after the guests and the bungalows, being tour guides or canoe taxi drivers, catching fish, preparing and providing welcome and farewell celebrations, performing songs, custom activities, dances or running cultural workshops. Rah Island works with villages on Mota Lava for tours and activities to share the work and income tourism generates. The result is that villages are finding a way to bond through tourism.
On Mota Lava guests can visit the Telvit Coconut Crab Conservation area to see and learn about these endangered crabs, then fish with a successful custom method using mud as bait. Guests can visit the schools and medical clinic, meet wood carvers, watch men's and women's custom dancing, see sand drawing, climb Sleeping Mountain and more.
On Rah Island guests can tour the village and see what everyday life is like with no electricity, cooking only with fire, and making homes and everyday items by hand from the surrounding bush, gardens and sea. Guests can visit the Rock of Rah and learn about shell money and the reserve banking system, hear local custom stories, do a cooking and weaving workshop, fish from an outrigger canoe, participate in the custom fishing ceremony in November for St Andrew's Day, snorkel along the reef with impressive coral and fish, or relax on the beach soaking in the incredible view and enjoying exceptional island food. The bungalow owners on Rah are excellent hosts and their cooking skills are highly praised.
One of the rare elements of tourism on Rah Island is the development of three key assets and a transparent system to enrich both the guest's experiences and the communities. The Rah Island Safari Association overseas tourism on Rah. Representing the community are the chiefs of Rah, the three bungalow owners, the outrigger canoe taxi association, coffee/kava bar and game fishing providers, and the Rah Women's Association. The group works together for the good of all. The Children of Rah Scholarship Fund has been established to receive contributions from Vanuatu Custom Travel for each day guests stay on the island. Visitors have also generously made donations to the scholarship fund which is used at the end of each year to assist families with expenses associated with attending high school boarding college on Pentecost, Santo or Efate for example. The final asset the island has started developing is a Rah Micro-Finance Loan Project to assist with establishing small sustainable projects to raise funds to improve education, health and basic living conditions. After a year of planning and development the micro-finance project received seed funding from Australian investors. The micro-loans are being used to buy flour to make bread, cement for the bungalows, paint and materials to repair the canoe taxis and tools to prepare the gardens for vegetables. Now Father Luke Dini and the people of Rah are sharing their methodology with the village of Totogla on Mota Lava. Father Luke says, "The seed we have planted is growing so well it is bearing fruit. So now we are taking a seed to another village to plant and grow there." All this has been initiated and created independent of government or NGO assistance and is a credit to the commitment of the people of Rah to the future of their community and their ability to work well together for the benefit of all.
In spite of the difficulties, hurdles and barriers that remote island villages face, the people of Rah Island have shown an example of a system of community management incorporating tourism and the development of their culture, education, finances and health that can be a touchstone for the planning of genuinely successful and sustainable tourism across Vanuatu. Father Luke Dini says, "We must keep the fire burning. Rah Island is small but now it is an example for others." In the crown of coral and cultural gems surrounding the hub of Port Vila, Rah Island truly is a shining jewel.
For the final word here is some feedback from a group from Melbourne (Australia) who spent a week on Rah Island with Simon Humphries from Vanuatu Custom Travel in 2009 .
"Visiting this tiny remote island, which can be accessed by canoe across a lagoon connecting it with the main island of Mota Lava, is a life changing experience and one which is very humbling. You can expect a very simple but very adequate and comfortable bungalow with all you need to enjoy this place of beauty and ever changing scenes. A place without electricity or hot water with wonderfully clean ablution block and flowers daily in your room. A place where white sands and coral reefs and fish are there to enjoy. While the scent of frangipani wafts around the island – small fires cooking the meals served 3 times a day are burning to provide delicate, delicious and very healthy food."
'Over years gone by we have been fortunate enough to travel quite extensively through the UK, Europe, the US and Canada. We have had many wonderful experiences visiting places history had taught us about and seen sights we had long dreamt of seeing. However nothing prepared us for our last trip which was to the island of Rah in Vanuatu. We had only a sketchy idea of what to expect as we travelled to this tiny island situated to the north of Espiritu Santo, settled in a glistening ocean of navy blue and turquoise. The island is visually stunning with tall swaying coconut palms, golden beaches, warm lagoons and beautiful sunsets. Yet here was more. We were so openly and warmly greeted by and accepted into the community of Rah who demonstrated so naturally those wonderful traits we seem to spend so long teaching our own children. They were joyful, warm, friendly, thoughtful and caring. They have so little but gave so generously. The richness of their custom and culture overwhelmed us as we were invited to join their daily lives. We spent time sitting under the stars philosophising about our lives and theirs and determined that perhaps we didn't have all the answers. Soul searching can be an indulgent exercise but it can also encourage us to revisit our own values and judge them for their worth. The time we spent with the beautiful people of Rah was a time never to forget and the friendships made are ones to cherish into the future.'
"Since returning to my own country Australia just one week ago my mind is constantly winding backwards to living on an island in the Banks Group that is so rich in Melanesian tribal culture and with people who are so selfless. This area of Vanuatu is without any means of income to support family life other than creatively providing people like us with hospitality for a week of fun and adventure. My week amongst these people was a learning experience of a community who are striving to provide for their children's well being in health and education with great sacrifice. Their community life is one of a team and family quietly and slowly achieving to provide more opportunities. I valued being able to talk to the women in the village who are concerned about women's health issues and how to improve these. Sharing with these women touched my emotions."
"I find the concept of this form of eco-tourism which indeed ends up supporting the people who need it very good, and we certainly learned a lot during the two weeks. For me it feels as if we came as tourists but left as friends. Best holiday we have had."
"Rah is a stunning place for photography."
"One is surrounded by beauty in this silent and remote little paradise. I will return to reconnect with these special people."
"Their gentleness and self sufficiency is inspirational."
Air Vanuatu now has three flights a week to Rah Island via Mota Lava airport and offer the new 'Harbin Y12' seventeen seat planes on many of these flights.