Rah & Mota Lava Islands
Authentic Tropical Island Escapes
Rah Island has picture postcard white sand beaches, one of the best views in Vanuatu, coral reefs, a picturesque lagoon for swimming, a forest for bush walking, various local activities on the mainland plus a truly incredible authentic island community with great hospitality.
Mota Lava and Rah islands are in the north area of Vanuatu known as 'The Banks'. Mota Lava is approximately a 1 hour flight from Santo Island, which is a 60 minute flight from Port Vila. Air Vanuatu has direct flights from Australia to Santo. Flights between Port Vila and Santo are daily. Mota Lava flights are only on Mondays, Wednesdays and Fridays. Our booking coordinator is a Vanuatu specialist who can get you the best rates on your flights, pre and post tour accommodation, transfers, Vanuatu activities and travel insurance. Our booking coordinator will also keep an eye on your flight bookings and inform you if there are any late changes.
Please Note: Our tours are hand crafted and only possible through direct in-depth experience, local knowledge and healthy relationships with remote island communities. We are proud to offer independent travellers and small groups rare access to an authentic happy culture with professional standards through close collaboration and the support of local communities.
Rah Island. A Spectacle To Bank On.
(Source: Island Spirit Inflight magazine issue 54. Page 16.)
'Mota Lava, a stunning island of jungle-clad craggy peaks plunging to tall coconut trees lining white sandy beaches. Near one such magnificent beach (so near it can almost be walked at low tide) is the classically beautiful Rah Island. From a distance, Rah looks like a thatch of greenery with coconut fronds pushing each other out of the way as they overhang the surrounding beach. The interior is studded with unusual rocks of enormous size. Rah is an excellent place to enjoy fresh lobster (weather permitting) and an ideal retreat for honeymooners and travellers looking to leave civilisation behind completely. The local culture is still very much alive and unblemished by the modern world.'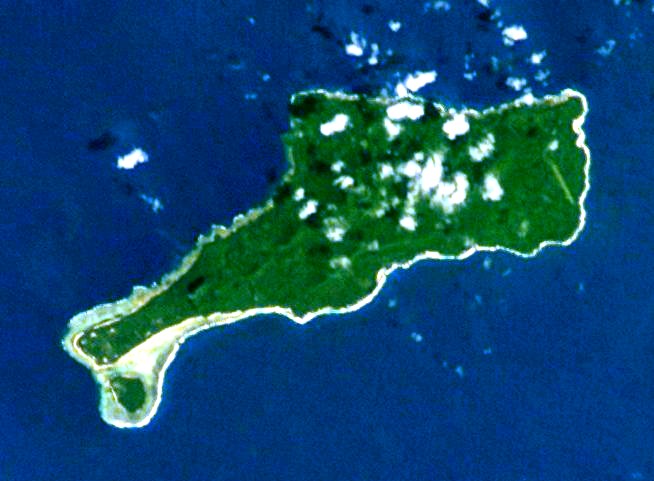 About Rah & Mota Lava
Rah and Mota Lava Islands are located in the northern provence of TORBA in the region knowns as the Banks islands. Mota Lava is in a remote location approximately 1 hour flight north from Santo Island. It is a 45 minute truck ride down to the southern tip of Mota Lava. Rah Island is a short canoe ride (approx 100 metres) from there. There are no land line phones or mains electricity on Rah Island. There is mobile phone service and some solar power. The village is a close knit community of just over 200 people. They show incredible resourcefulness with limited resources and have a well run positive community. The people of Mota Lava and Rah have a very happy temperament and especially enjoy festivals, celebrations and sharing their culture.
An example of everyday life is the locals will walk over 12 kilometres one way to collect food from their gardens on Mota Lava. They carry home supplies on their shoulders.
Rah is in the bottom left hand corner of the photo below. There is a reef around Rah that protects it from the open sea, and a lagoon between Rah and Mota Lava.
Mota Lava is 12km long, 5km across at its widest point, and covers 13 sq km. Mt Tuntong, also known as Sleeping Mountain, offers a magnificent panorama to the south from Reef Islands around to Mota. At low tide you can walk across to its tiny neighbour, Rah Island. Most of the island's 2000 inhabitants live in the south-western corner or on Rah. Mota Lava is a strong centre for traditional activities, especially dancing.
Cultural tourism and community development have progressed considerably on Rah Island from a healthy working realtionship with Simon Humphries and Vanuatu Custom Travel since 2006. The bungalows and island hospitality offer some of the best quality tourism services in the whole of Vanuatu's outer islands.
Why visiting Rah with Vanuatu Custom Travel is so special (Fair Trade Tourism)
(Selected text from article 'Jewel of Rah' in Welkam magazine Jan 2010 )
'One tiny island community are facing the challenges and reaping a range of rewards with the success of their locally developed whole community approach to tourism.'
'Vanuatu's outer islands are like a crown of coral and cultural gems surrounding the hub of Port Vila. Tourism development in these rural areas is a sensitive and in many ways difficult task. The pristine environments and preserved local customs are attractive to visitors yet often vulnerable to the impacts of careless influence. Careful and considered tourism and grass roots community self-management is required in a country like Vanuatu where tourism is the largest source of income for the nation and one of the most influential industries affecting the Vanuatu way of life.'
'The Rah Island community have become pioneers in Vanuatu, setting a new benchmark for outer island bungalow accommodation and cultural tourism experience standards. This has happened alongside healthy community management through the hard work and cooperation of the entire village, close associations with an Australian tour operator passionate about teaching and assisting healthy community growth, by focusing on professionalism, cultural authenticity, and the leadership of a wise old man who has a vision for helping his whole island and communities beyond. It is a combination that after four years of focused work, with its hardship, struggles and successes, has created a unique island experience that overseas guests are simply raving about.'
'Under the guidance of Simon Humphries from Vanuatu Custom Travel and the coordination of Father Luke Dini, the community of Rah Island has embraced with great results the motto "tourism is everyone's business". Every family on the island is involved in some way, such as collecting ffood from the gardens, preparing meals, doing a variety of duties to look after the guests and the bungalows, being tour guides or canoe taxi drivers, catching fish, preparing and providing welcome and farewell celebrations, performing songs, custom activities, dances or running cultural workshops. Rah Island works with villages on Mota Lava for tours and activities to share the work and income tourism generates. The result is that villages are finding a way to bond through tourism.'
'On Mota Lava guests can visit the schools and medical clinic, meet wood carvers, watch men's and women's custom dancing, see sand drawing, climb Sleeping Mountain and more.'
'On Rah Island guests can tour the village and see what everyday life is like with no electricity, cooking only with fire, and making homes and everyday items by hand from the surrounding bush, gardens and sea. Guests can visit the Rock of Rah and learn about shell money and the reserve banking system, hear local custom stories, do a cooking and weaving workshop, fish from an outrigger canoe, participate in the custom fishing ceremony in November for St Andrew's Day, snorkel along the reef with impressive coral and fish, or relax on the beach soaking in the incredible view and enjoying exceptional island food. The bungalow owners on Rah are excellent hosts and their cooking skills are highly praised.'
'One of the rare elements of tourism on Rah Island is the development of three key assets and a transparent system to enrich both the guest's experiences and the communities. The Rah Island Safari Association overseas tourism on Rah. Representing the community are the chiefs of Rah, the three bungalow owners, the outrigger canoe taxi association, coffee/kava bar and game fishing providers, and the Rah Women's Association. The group works together for the good of all. The Children of Rah Scholarship Fund has been established to receive contributions from Vanuatu Custom Travel for each day guests stay on the island. Visitors have also generously made donations to the scholarship fund which is used at the end of each year to assist families with expenses associated with attending high school boarding college on Pentecost, Santo or Efate for example. The final asset the island has started developing is a Rah Micro-Finance Loan Project to assist with establishing small sustainable projects to raise funds to improve education, health and basic living conditions. After a year of planning and development the micro-finance project received seed funding from Australian investors. The micro-loans are being used to buy flour to make bread, cement for the bungalows, paint and materials to repair the canoe taxis and tools to prepare the gardens for vegetables. Now Father Luke Dini and the people of Rah are sharing their methodology with the village of Totogla on Mota Lava. Father Luke says, "The seed we have planted is growing so well it is bearing fruit. So now we are taking a seed to another village to plant and grow there." All this has been initiated and created independent of government or NGO assistance and is a credit to the commitment of the people of Rah to the future of their community and their ability to work well together for the benefit of all.'
'In spite of the difficulties, hurdles and barriers that remote island villages face, the people of Rah Island have shown an example of a system of community management incorporating tourism and the development of their culture, education, finances and health that can be a touchstone for the planning of genuinely successful and sustainable tourism across Vanuatu. Father Luke Dini says, "We must keep the fire burning. Rah Island is small but now it is an example for others." In the crown of coral and cultural gems surrounding the hub of Port Vila, Rah Island truly is a shining jewel.'