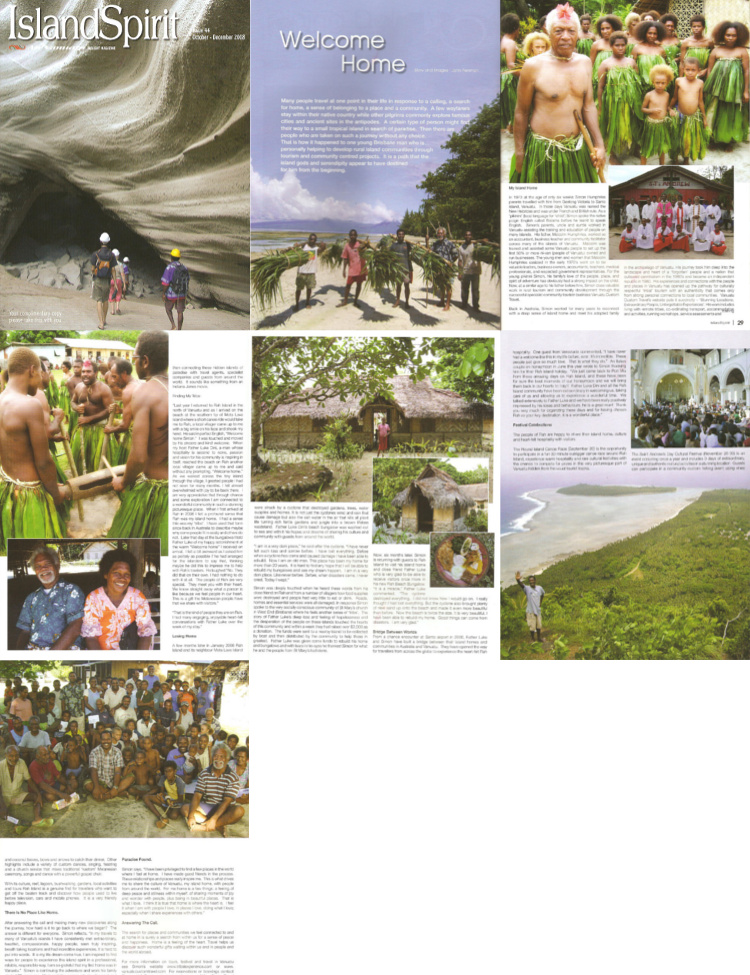 "Welcome Home"
Many people travel at one point in their life in response to a calling, a search for home, a sense of belonging to a place and a community. A few wayfarers stay within their native country while other pilgrims commonly explore famous cities and ancient sites in the antipodes. A certain type of person might find their way to a small tropical island in search of paradise. Then there are people who are taken on such a journey without any choice. That is how it happened to one young Brisbane man who is personally helping to develop rural island communities through tourism and community centred projects. It is a path that the island gods and serendipity appear to have destined for him from the beginning.
My Island Home
In 1973 at the age of only six weeks Simon Humphries parents travelled with him from Geelong Victoria to Santo Island, Vanuatu. In those days Vanuatu was named the New Hebrides and was under French and British rule. As a ' pikinini' (local language for 'child') Simon spoke the native pidgin English called Bislama before he learnt to speak English. Simon's parents, uncle and auntie worked in Vanuatu assisting the training and education of people on many islands. His father, Malcolm Humphries, worked as an accountant, business teacher and community facilitator across many of the islands of Vanuatu. Malcolm was trained and assisted some Vanuatu people to set up the first 50% or more ni-van (people of Vanuatu) owned and run businesses. The young men and women that Malcolm Humphries assisted in the early 1970's went on to be valuable leaders, business owners, accountants, teachers, medical professionals, and respected government representatives. For the young pikinini Simon, his family's love of the people, place, and spirit of adventure has obviously had a strong impact on the child. Now, at a similar age to his father before him, Simon does valuable work in rural tourism and community development through the successful specialist community tourism business Vanuatu Custom Travel.
Back in Australia, Simon wanted for many years to reconnect with a deep sense of island home and meet his adopted family in the archipelago of Vanuatu. His journey took him deep into the landscape and heart of a 'forgotten' people and a nation that outlawed cannibalism in the 1960's and became an independent republic in 1980. His experiences and connections with the people and places in Vanuatu has opened up the pathway for culturally respectful 'tribal' tourism with an authenticity that comes only from strong personal connections to local communities. Vanuatu Custom Travel's website puts it succinctly – 'Stunning Locations, Extraordinary People, Unforgettable Experiences'. His work includes living with remote tribes, co-ordinating transport, accommodation and activities, running workshops, service assessments and training then connecting these hidden islands of paradise with travel agents, specialist companies and guests from around the world. It sounds like something from an Indiana Jones movie.
Finding My Tribe
"Last year I returned to Rah Island in the north of Vanuatu and as I arrived on the beach at the southern tip of Mota Lava Island where a short canoe ride would take me to Rah, a local villager came up to me with a big smile on his face and shook my hand. He said in perfect English, "Welcome home Simon." I was touched and moved by his sincere and kind welcome. When my host Father Luke Dini, a man whose hospitality is second to none, passion and vision for his community is inspiring in itself, reached the beach on Rah another local villager came up to me and said without any prompting, "Welcome home." As we walked across the tiny island through the village, I greeted people I had not seen for many months. I felt almost overwhelmed with joy to be back there. I am very appreciative that through chance and some exploration I am connected to a wonderful community in such a stunning picturesque place. When I first arrived at Rah in 2006 I felt a profound sense that Rah was my island home. I had a sense this was my 'tribe'. I have used that term since back in Australia to describe maybe why some people fit in easily and others do not. Later that day at the bungalows I told Father Luke of my happy astonishment at the warm "Welcome home" I received on arrival. I felt a bit awkward as I asked him as politely as possible if he had arranged for the islanders to say that, thinking maybe he did this to impress me to help with Rah's tourism. He laughed."
"No. They did that on their own. I had nothing to do with it at all. The people of Rah are very special. They meet you with their heart. We know straight away what a person is like because we feel people in our heart. This is a gift the Melanesian people have that we share with visitors."
"That is the kind of people they are on Rah. I had many engaging, enjoyable heart-felt conversations with Father Luke over the week of my stay."
Losing Home
A few months later in January 2008 Rah Island and its neighbour Mota Lava Island were struck by a cyclone that destroyed gardens, trees, water supplies and homes. It is not just the cyclones wind and rain that cause damage but also the salt water in the air that kills all plant life turning rich fertile gardens and jungle into a brown lifeless wasteland. Father Luke Dini's beach bungalow was washed out to sea and with it his hopes and dreams of sharing his culture and community with guests from around the world.
"I am in a very dark place," he said after the cyclone. "I have never felt such loss and sorrow before. I have lost everything. Before when a cyclone has come and caused damage I have been able to rebuild. Now I am an old man. This place has been my home for more than 20 years. It is hard to find any hope that I will be able to rebuild my bungalows and see my dream happen. I am in a very dark place. Like never before. Before, when disasters came, I never cried. Today I wept."
Simon was deeply touched when he heard these words from his close friend on Rah and from a number of villagers how food supplies were destroyed and people had very little to eat or drink. Roads, homes and essential services were all damaged. In response Simon spoke to the very socially conscious community of St Mary's church in West End (Brisbane) where he feels another sense of 'tribe'. The story of Father Luke's deep loss and feeling of hopelessness and the desperation of the people on these islands touched the hearts of this community and within a week they had raised over $2,000 as a donation. The funds were sent to a nearby island to be collected by boat and then distributed by the community to help those in greatest. Father Luke was given some funds to rebuild his home and bungalows and with tears in his eyes he thanked Simon for what he and the people from St Mary's had done.
Now, six months later, Simon is returning with guests to Rah Island to visit his island home and close friend Father Luke who is very glad to be able to receive visitors once more in his new Rah Beach Bungalow. "It is a miracle," Father Luke commented. "The cyclone destroyed everything. I did not know how I would go on. I really thought I had lost everything. But the cyclone also brought plenty of new sand up onto the beach and made it even more beautiful than before. Now the beach is twice the size. It is very beautiful. I have been able to rebuild my home. Good things can come from disasters. I am very glad."
Bridge Between Worlds
From a chance encounter at Santo airport in 2006, Father Luke and Simon have built a bridge between their island homes and communities in Australia and Vanuatu. They have opened the way for travellers from across the globe to experience the heart-felt Rah hospitality. One guest from Venezuela commented, "I have never had a welcome like this in my life before, ever. It's incredible. These people just give so much love. That is what they do." An Italian couple on honeymoon in June this year wrote to Simon thanking him for their Rah Island holiday. "We just came back to Port Vila from these amazing days on Rah Island, and these have been for sure the best moments of our honeymoon and we will bring them back in our hearts to Italy!!! Father Luke Dini and all the Rah Island community have been extraordinary in welcoming us, taking care of us and allowing us to experience a wonderful time. We talked extensively to Father Luke and we have been really positively impressed by his ideas and behaviours, he is a great man! Thank you very much for organizing these days and for having chosen Rah as your key destination, it is a wonderful place."
Festival Celebrations
The people of Rah are happy to share their island home, culture and heart-felt hospitality with visitors.
The Round Island Canoe Race (September 20) is the opportunity to participate in a fun 30 minute outrigger canoe race around Rah Island, experience warm hospitality and rare cultural festivities with the chance to compete for prizes in this very picturesque part of Vanuatu hidden from the usual tourist tracks.
The Saint Andrew's Day Cultural Festival (November 25-30) is an event occurring once a year and includes 3 days of extraordinary, unique and authentic cultural activities in a stunning location. Guests can participate in a community custom fishing event using vines and coconut leaves, bows and arrows to catch their dinner. Other highlights include a variety of custom dances, singing, feasting and a church service that mixes traditional ' kastom' Melanesian ceremony, songs and dance with a powerful gospel choir.
With its culture, reef, lagoon, bushwalking, gardens, local activities and tours Rah Island is a genuine find for travellers who want to get off the beaten track and discover how people used to live before television, cars and mobile phones. It is a very friendly happy place.
There Is No Place Like Home.
After answering the call and making many new discoveries along the journey, how hard is it to go back to where we began? The answer is different for everyone. Simon reflects, "In my travels to many of Vanuatu's islands I have consistently met extraordinary, heartfelt, compassionate, happy people; seen truly inspiring, breath taking locations and had incredible experiences. It is hard to put into words. It is my life dream come true. I am inspired to find ways for people to experience this island spirit in a professional, reliable, responsible way. I am so grateful that my first home was in Vanuatu." Simon is continuing the adventure and work his family started 35 years ago. He is assisting community development and bridging worlds.
Paradise Found.
Simon says, "I have been privileged to find a few places in the world where I feel at home. I have made good friends in the process. These relationships and places really inspire me. This is what drives me to share the culture of Vanuatu, my island home, with people from around the world. For me home is a few things; a feeling of deep peace and stillness within myself, of sharing moments of joy and wonder with people, plus being in beautiful places. That is what I love. I think it is true that home is where the heart is. I feel it when I am with people I love, in places I love, doing what I love; especially when I share experiences with others."
Answering The Call.
The search for places and communities we feel connected to and at home in is surely a search from within us for a sense of peace and happiness. Home is a feeling of the heart. Travel helps us discover such wonderful gifts waiting within us and in people and the world abroad.
For more information on tours, festival and travel in Vanuatu see Simon's website www.vanuatucustomtravel.com For reservations or bookings contact Simon at info@vanuatu.com.au or call Sure Thing Travel for reservations on 02 8212 4507 (Australia) or +61 2 8212 4507 (from outside Australia).