Vanuatu hits screens with 'Tanna' movie
'Tanna', the first movie filmed entirely in Vanuatu and made in collaboration with the local community, launches in Australia this week!
Synopsis:
Vanuatu's answer to Romeo and Juliet and based on a true story around forbidden love, 'Tanna' was crafted in close collaboration with the Yakel village on the island of Tanna and tells the story of a young woman and man who fall deeply in love. Conflict arises when the woman is promised to a husband in another tribe as part of a peace deal.
The lovers must choose between their hearts and the future of the tribe, and the villagers must wrestle with the idea of adapting their culture in order to preserve it. One of Tanna's key highlights is the mighty Mount Yasur volcano, which features in the film.
An interview with the directors of Tanna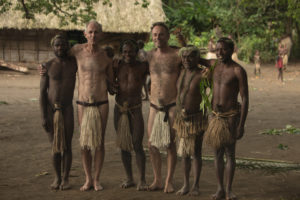 Directors Bentley Dean and Martin Butler, best known for the documentary 'First Footprints', spent seven months living amongst the remote tribe in the village of Yakel. The duo worked closely with the ni-Vanuatu people to ensure the story was captured and told in a respectful and accurate way.
Q.1 What do you love about Vanuatu?
We love the fact that in just 3 hours from Australia you have unspoiled tropical environments of every kind – beaches, reefs, forests and volcanoes, but what we love the most about Vanuatu are the people. Beautiful, friendly and generous in every sense.
Q.2 How would you describe Tanna to people who want to add this island to a Vanuatu holiday?
Almost everyone who visits Tanna says it's the best experience they've had in their traveling life. If you are curious you'll see what they mean. We spent 7 months living there and didn't scratch the surface.
Q.3 When you were not filming, tell us your favourite place to grab a drink/meal in Vanuatu?
Any of the kava bars in Blackman town in Lenakel were great to meet people, have good kava and tasty morsels to nibble after.
Q.4 What would you tell visitors to Vanuatu is a must-do activity/experience?
The people of Yakel asked me to send out an invitation for people to visit their village. They'll show you around and perform brilliant Kastom dances, which you'll be more than welcome to join (highly recommended). Hot tip, see their film TANNA first as they all star in it and you'll have lots of questions.
Q.5 If you were in Vanuatu right now, you would be…
Captivated by Tanna's volcano and her many moods.