Where is Vanuatu?
The Republic of Vanuatu is a nation of 83 islands with 115 local languages hidden in the South Pacific between New Caledonia and Fiji. Vanuatu is regarded as one of the most culturally diverse regions in the world. In 2006 it was voted the happiest place on Earth by the Happy Planet Index. The people of Vanuatu are called Ni-Vanuatu or the more commonly term Ni-Vans, meaning 'of Vanuatu'. The nation became independent of the UK and France in 1980. Prior to this the country was known as the New Hebrides. Vanuatu has three official languages: Bislama (a pidgin English spoken most widely across the country), English and French. The currency is the Vanuatu Vatu or VUV. There are places to exchange money in Port Vila and Santo. On the outer islands it is highly recommended you exchange money before you leave Vila or Santo and carry only small currency vatu with you as you will find it hard to get change for notes of 1,000vt or more value (approx $12.50 AUD). See our Travel Tip for more details.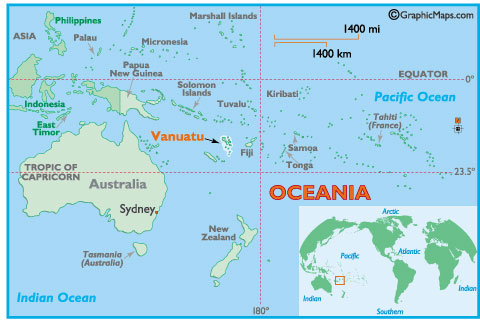 Vanuatu Map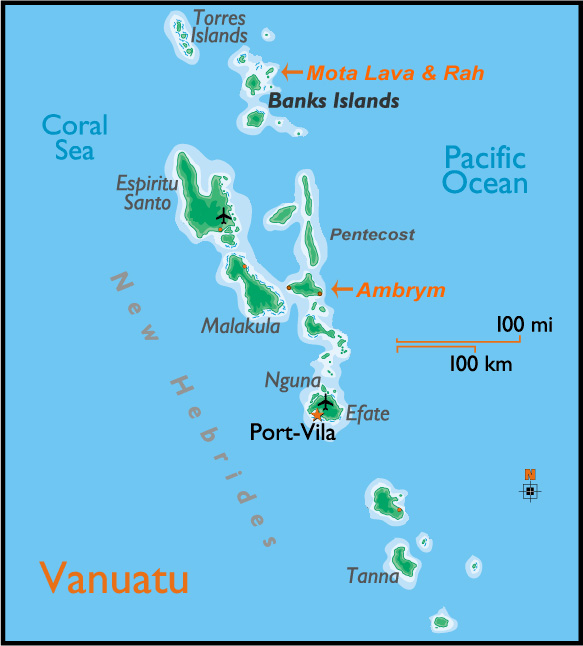 Weather
For weather forecasts in Vanuatu
CLICK ON THE LINK BELOW:
For weather on Rah Island see the Torba Provence section
CLICK ON THE LINK BELOW:
http://www.meteo.gov.vu/Forecasts/TorbaWeatherForecast/tabid/55/Default.aspx
For a seven day forecast for Port Vila (Efate Island) and Luganville (Santo Island)
CLICK ON THE LINK BELOW:
http://www.meteo.gov.vu/Forecasts/7DayForecastforPortVilaandLuganville/tabid/192/Default.aspx
For tropical cyclone outlo ok
CLICK ON THE LINK BELOW:
http://www.meteo.gov.vu/Forecasts/TropicalCycloneOutlook/tabid/99/Default.aspx
Public Holidays
| | |
| --- | --- |
| 2 Jan | New Year's Holiday |
| 21 Feb | Father Lini Day |
| 5 Mar | Custom Chief's Day |
| 6 Apr | Good Friday |
| 9 Apr | Easter Monday |
| 1 May | Labour Day |
| 17 May | Ascension Day |
| 24 Jul | Children's Day |
| 30 Jul | Independence Day |
| 15 Aug | Assumption Day |
| 5 Oct | Constitution Day |
| 29 Nov | Unity Day |
| 25 Dec | Christmas Day |
| 26 Dec | Family Day |
Air Vanuatu
Air Vanuatu is the national airline of Vanuatu offering international and domestic services.
'We thank you for supporting the national carrier of Vanuatu, we are proud to be a significant contributor to tourism and development and were honoured to receive an industry award for that contribution recently. Air Vanuatu operates international flights from Australia, New Zealand and New Caledonia to Port Vila each week. However our domestic network is extensive, flying to all provinces in Vanuatu, serving 240,000 people across 83 islands. Our domestic fleet is amongst the youngest in the world, including our flagship aircraft, the new ATR-72, three Y-12 inter-island aircraft and our workhorse, the Twin Otter, flown throughout the world. I encourage you to take the time to explore the outer islands, to see the real Vanuatu and discover what matters. Enjoy your stay.' Joseph Laloyer. CEO Air Vanuatu. Island Spirit Inflight magazine issue 54.
Vanuatu Facts
For a brief outline of FACTS about Vanuatu from the Vanuatu Tourism Office website
CLICK ON THE LINK BELOW:
http://vanuatu.travel/vanuatu/facts/
For a brief outline of TRAVEL INFORMATION from the Vanuatu Tourism Office website
CLICK ON THE LINK BELOW:
http://vanuatu.travel/getting-here/travel-tips/travel-tips.html
Vanuatu News
For up-to-date local Vanuatu news
CLICK ON THE LINKS BELOW:
NEWSPAPERS:
The Daily Post. http://www.dailypost.vu/
Port Vila Presse. http://www.presse.com.vu/
INTERNET / ONLINE NEWS:
Vanuatu Online News http://www.news.vu/
Vanuatu News Sites. (Various sites at one address) http://www.world-newspapers.com/vanuatu.html
The Independent. (Online subscription) http://www.vanuatunews.com/