We can assist you with your travel requirements across Vanuatu. From five star resorts to island bungalow escapes, diving to charter flights, standing on the edge of an active volcano to relaxing on a deserted beach, we can help you. We have developed a special holiday experience for you on Rah and Mota Lava islands. If you would like to get off the beaten track and see an unspoilt part of the culture and country then we highly recommend our Rah Island Escapes, where you can experience a uniquely valuable holiday hosted by a local island community.
Meet new people from a completely different cultural background and connect through their customs and everyday life. With our authentic tribal tourism opportunities you will discover why Vanuatu was voted the happiest place on earth. Please read our guest feedback.
Here below is some detailed information including rates and inclusions to help you choose which Rah and Mota Lava island experience best suits you. In the outer islands it takes time to prepare for guests arriving. We have developed these friendly packages to give you the freedom to independently travel in a stunning yet sensitive environment with reliable island hosts and activities for a professional standard of service and delivery. You can relax and enjoy your authentic tropical island escape. Please scroll down to see detailed information.
To enquire or make a reservation please email ask@vanuatucustomtravel.com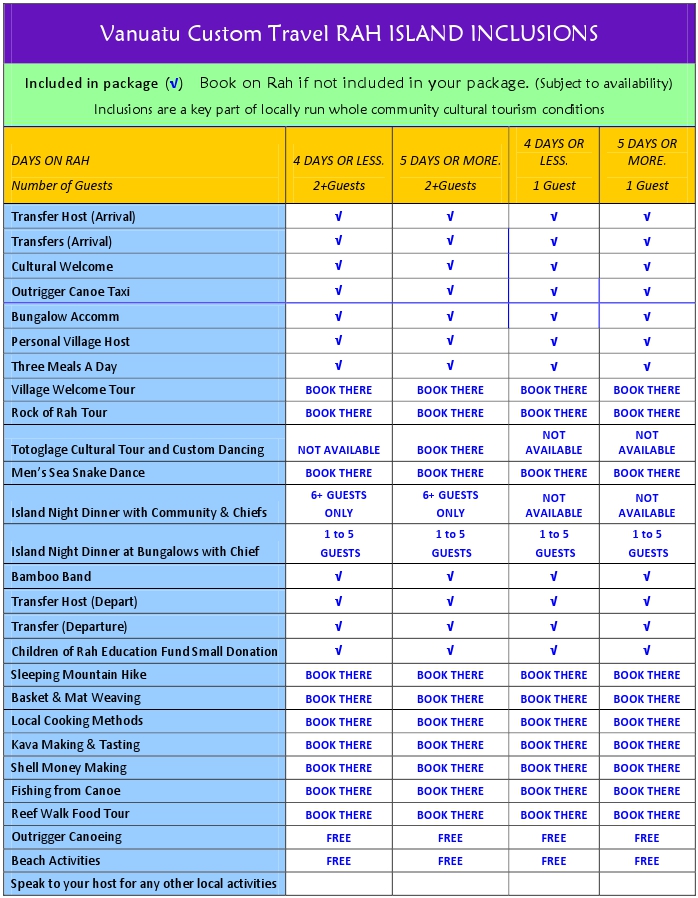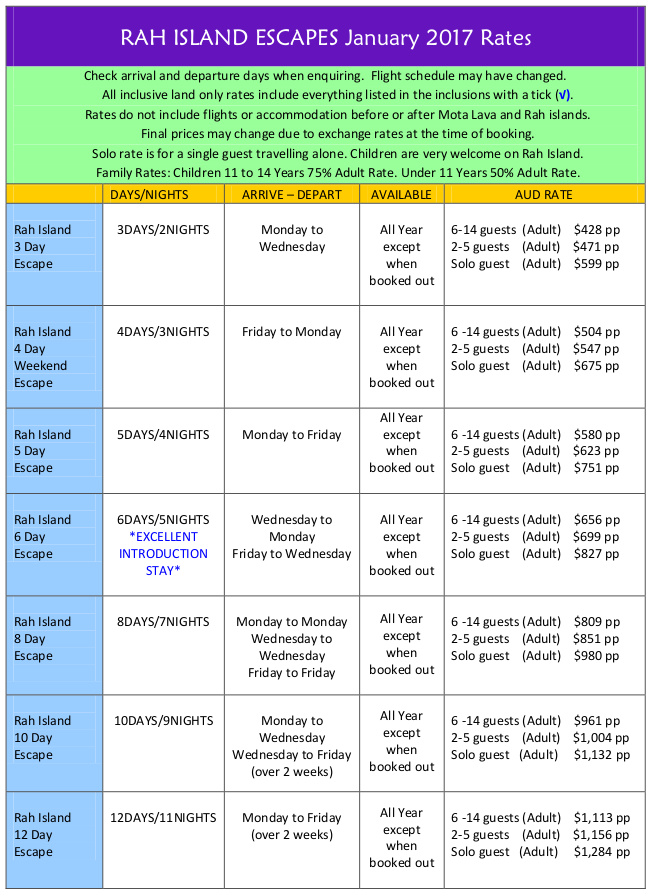 Please note: September to November is usually the best weather. November to March is a hot and humid summer in Vanuatu. January and March has a chance of cyclones. The $ rate is quoted in AUD and is subject to possible change depending on exchange rates. Please read the booking conditions, medical indemnity form and safety information provided by Vanuatu Custom Travel. Only choose to go on a tour if you feel that you are capable and are responsible for your own duty of care. If you have questions please ask our booking coordinator or your Rah Island host about tours or safety considerations .